who's behind the birthday party ideas anyway?
I'm not a 'celebrity' party planner. I just love designing birthday party ideas.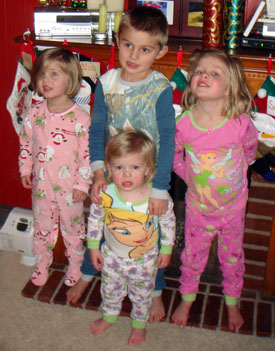 My name is Michelle and among other things I'm a wife, a mom (there are my little 'bosses'), an Australian living in the U.S. and the friend everyone calls when they want a cake or a party that's out of the ordinary.
the accidental 'party diva'...
diy website - birthday party ideas
I've always been creative and had a passion for food and design. Over the years I've been an interior designer, a graphic designer and a chef/restaurateur back in Australia.
Then one day I took a giant leap of faith, packed up everything and moved to a tiny speck on the other side of the world...for love.
Fast forward a few more years and I've got four kids under the age of seven at home. I love making cakes and designing parties and maybe I could make some money at it, but I don't want to be tied to a bricks and mortar 'business'. My dream had always been, to have:
a creative outlet that would pay the bills
allow time with my kids to see them grow up
the freedom to travel and still make money whether I'm working or not
So I figured the cake decorating and party planning would just be a hobby. I would have to look for something else to help pay the bills.
a funny thing happened...
diy website - birthday party ideas
I searched for months on-line. It seemed that everywhere I looked there were empty promises of quick riches if only I would pay my $79.95 before midnight tonight. I had almost given up hope when, late one night, I stumbled across
It may sound a little dramatic but I really consider that moment a major turning point in my life.
Something about this company was different. There was no promise of "work 2 minutes a day and make a million dollars before lunch". They were simply offering me the tools, knowledge and support necessary to build a successful website.
I browsed the list of successful SBI! sites and I was absolutely staggered by the range of topics that people had built a successful website around.
Then I watched this video about a mom, with the same kind of wishes and concerns I had, who started a do-it-yourself wedding site.
Hmmm....work from home...spend time with the kids...be creative and write about it...
...she really had my attention!
See it for yourself.
I watched that video over and over. She seemed like an average girl, like me. If she could do it maybe I could too!
I followed my intuition and signed up with SBI! I really didn't have anything to lose. They offered my money back if I wasn't happy after a month. I knew after a few days that I wouldn't be needing that refund.
it pays to dream big...
diy website - birthday party ideas
A wise man, actually it was Harvey MacKay, once said:
"Find something you love to do and you'll never have to work a day in your life...
That's one of my favorite quotes. It used to drive me and frustrate me at the same time. You see, motivation was never the problem - not having a road map was! SBI! gave me the road map.
They showed me how to choose what to write about, how to find my own unique voice and how to build a profitable website based on what I knew. And I did it all without any website building experience at all.
Now I have a Cake Decorating website and this Birthday Party Ideas website that receive tens of thousands of visitors every month from all over the world and I make money every day whether I work on my websites or not!
I still have to pinch myself sometimes...
what's your passion?
diy website - birthday party ideas
It's been said that "everyone has one great novel in them"...I believe, with the right guidance, that everyone has at least one great website in them.

This FREE e-book gives a real-life perspective to what you could be doing with SBI! Read the stories of other Work At Home Moms and get inspired to start your own journey.
Take a leap of faith. You'll be glad you did. I sure am!
Glad you stopped by. Enjoy your visit!
Thanks,