need sleepover party ideas to get you through the night?

these sleepover party ideas take you beyond movies, munchies and staying up all night.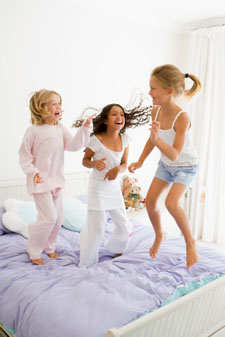 If there's one thing pre-teens love more than texting their BFF's, it's hanging out with them, all night.
A sleepover party, where they can crash on the floor, talk most of the night, and wake up to a breakfast feast will become a cherished childhood memory.
Keep the party interesting by incorporating a theme. Try one of these ideas:
a night at the movies
'Project Runway' fashion show
'Girls Night At The Spa'
a glamorous Tea Party
any of the other great themes we've got for you here on the site...
tips for sleepover party success:
1. Involve your kids by brainstorming with them to get a feel for what kinds of activities, crafts or games their friends might enjoy.
2. To make it easier on yourself, hold the sleepover party on a Friday night and specify a pick-up time for the following morning. This way you've got the whole weekend to recover from the event!
3. On the night, check in every now and then, but let the kids run their own party.
4. You can minimize family drama by either sending the siblings on a special outing of their own (dinner & a movie maybe), or inviting one friend for each sibling and allowing them host their own sleepover in the bedroom.
5. Lay out a basket with travel sized toothpaste and toothbrushes for anyone who may have forgotten these.
Try these sleepover party ideas for a great night 'in':
invite
teen birthday party ideas - sleepover party ideas
Make sure to ask your guests to dress to fit your theme, if you have one.
These sleepover party ideas for invitations will set the mood for your slumber-time adventure:
1. Make small pillowcases using colored felt and fabric glue. Cut some cardstock to fit inside the pillow case, add the party details and insert in to the pillow case. Add a little cottom stuffing for of a 'pillow' effect if you like.
2. Send out one half of a pair of cute, brightly colored fuzzy flip-flops for each guest. Fire up your scrapbooking skills and design a decorative tag for each flip-flop with the party details on it. Hand out the matching half of the flip-flop pair to each guest at the party.
3. Use glitter fabric paint pens to add each invitee's name to an inexpensive, satin sleep mask. Make a decorative card in the shape of a cloud by cutting white cardstock in one cloud shape and sky blue cardsotck in an identical, slightly larger cloud shape. Glue the white over the blue, add the party details in silver metallic marker and sprinkle some silver star confetti in the envelope, with the card and sleep mask. Fabulous!
4. Use fabric glue and quilted fabric remnants to make mini sleeping bags, then insert a small polly-pocket type doll into each one (there are always mini dolls available at your local dollar store). Cut some white cardstock to fit in the sleeping bag, add the party details and slip it in behind the doll. How cute!
5. Cut some metallic silver cardstock to postcard size, cover the shiny side completely with white oil pastel crayons, then cover the white completely with black oil pastel crayon. Use a toothpick to draw lots of star shapes of varying sizes, pressing harder on some, to reveal the silver cardstock, and less hard on others, to reveal just the white crayon. When you're happy with your finished design, spray the entire card surface with hairspray, to set the oil pastels. Now cut a cirlce from bright yellow cardstock and cover most of the circle with black oil pastel crayon, leaving just a crescent shaped moon of yellow uncovered. Add the party details in the black area, using using the same toothpick method as you did for the stars. Set with hairspray and join the two pieces with some silver metallic ribbon to finish.
6. Go green and send your invitations electronically. Since most homes now have computer access, using a free service like socializr.com saves you time, money and a few headaches. Just create a free account, choose your invite design, add the e-mail addresses and you're all set. The hardest part is choosing from all the great designs available. This option may even increase your 'coolness factor' with your kids!
No matter what type of invitation you decide on, make sure to include the follwing details: date, start time, collection time the following day, telephone number and address (even though your friends already know this, the parents will want to have that info) and what the guests should bring - pj's, sleeping bag, toothbrush etc.
decorate
teen birthday party ideas - sleepover party ideas
Don't forget to check your local dollar store. There's always tons of great stuff for party favors and decorations available.
these sleepover party ideas for decorating will add some sparkle to your night:
1. Cover your ceiling with different sizes of glow in the dark stars. When the giggling and gossip slow down for the night (they have to eventually, right?), the lights go down and the stars add a magical effect.
2. For an even more magical starry night sky, hang tiny, twinkling fairy lights randomly across the ceiling, then drape dark blue or black sheets or inexpensive cotton fabric from the center of the ceiling to each side of the room. Switch off all other lights in the room, except the fairy lights...pure magic!
3. Cover the entire ceiling of your sleeping room with black, helium filled, balloons then tie silver star cutouts to the balloons at varying heights.
4. Cover the windows of your sleepover room with black construction paper and have lots of glitter marker pens available for the guests to write or draw with. This decoration also becomes a great keepsake since it's a fun record of the night.
5. Clear breakables and furniture away and load up the sleeping area with lots of big pillows for the kids to lounge on before sleep time (if that time ever comes!).
sleepover party food ideas
teen birthday party ideas - sleepover party ideas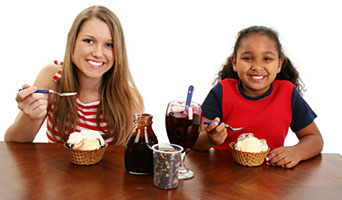 So, you've worked up the courage to host this all-night shindig, now what do you feed all those hungry campers?
Don't stress about the food and drinks, just think in threes - dinner, late night snacks and breakfast.
Sleepover party ideas for food make me think tasty, easy, make-your-own treats and finger food:
dinner
teen birthday party ideas - sleepover party ideas
1. 'Make-your-own' pizza bar. Set out pita bread or pre-rolled pizza dough bases and have a selection of cut up toppings (peppers, mushrooms, onion, crushed pineapple) sauces ( BBQ, marinara and white) and shredded cheeses avaialble for everyone to choose from. Have an adult man the oven for this!
2. 'build-your-own' mini burger bar
2. 'Top-your-own' taco bar. Lay out warmed, hard or soft taco shells, shredded or ground chicken, beef or turkey, finely shredded lettuce, finely diced tomato, shredded cheese, sour cream, salsa and guacamole.
3. Healthy and fun...a baked potato bar. Include toppings like lite sour cream, vegetarian chilli, salsa and shredded cheese.
4. An ice-cream sundae bar. Set out lots of topping choices like different flavored syrups, sliced bananas and strawberries, mini M&M's, chocolate cookie crumbs and different sprinkles. Use waffle bowls for less clean-up and have spoons and napkins close by.
5. Now for something tasty and healthy - fresh fruit skewers with a fabulous dip. Load up a big platter with sliced or diced strawberries, cantaloupe, watermelon, honeydew, pineapple, kiwi fruit and orange. Have bamboo skewers on hand for everyone to build their favorite combinations and a big bowl of fruit dip made simply with sour cream and a little brown sugar...really yummy!
6. Cut long french bread sticks into 4" pieces and slice almost open, so each 'sub' can be filled. Set out a platter with sliced deli meats, cheeses, lettuce, tomato, pickles, onion slices, mustard, mayo and other condiments, for a 'make your own' sub bar.
late night snacks
teen birthday party ideas - sleepover party ideas
Set up a concession stand in the sleeping area for late night movie viewing. Include include some tasty, but still healthy, snacks like:
popcorn with different seasonings - parmesan cheese, sea salt, cinammon/brown sugar mix, italian herbs
trail mix
Milk and Oreo cookies...you can't beat the classics
flavored bottled waters - stick with unsweetened fruit flavors to avoid a midnight sugar rush
breakfast
teen birthday party ideas - sleepover party ideas
After too few hours of sleep and too many hours of gossip and fun, you'll need a little morning fuel to get things moving again.
Make it easy with a breakfast buffet. Include things like:
1. Pancakes and waffles (use frozen if you like).
2. French toast.
3. Maple syrup, blueberry and strawberry syrups and whipped butter
4. Selection of cereals - use a variety pack of individual boxes. Make sure to have milk, bowls and spoons close by.
5. Fresh fruit platter - stick with fruits that won't go brown or mushy while sitting out, like strawberries, pineapple, cantaloupe, watermelon.
6. Orange and apple juice - use small juice boxes to save on clean-up.
make the cake a fun, edible centerpiece
teen birthday party ideas - sleepover party ideas
Use any one of these great sleepover party ideas for cakes to make your party truly memorable:
1. Who says you can't have cake for breakfast? Make a 'stack of pancakes' cake to serve as the centerpiece of your breakfast buffet. Use your favorite cake batter (from scratch or a box mix), and cook on a griddle, just like you would for regular pancakes. Stack the layers high and fill in between with drizzled fruit syrup. Top with a swirl of whipped cream and a cherry. So fun and so simple....yum! This great idea works with any cake flavor.
2. Try this fun idea for an edible party craft and cake all in one. Have each party guest decorate their cupcake with themselves in a sleeping bag! Bake and frost some cupcakes and have the following items on hand: different colored frosting in small ziploc bags with a tiny hole cut in one corner (for facial details, hair and other details), twinkies cut in half lengthwise (for bodies), fruit leather (sheets or roll is fine) or starburst candies rolled flat (for blankets & sleeping bags), small round chocolate or vanilla wafer cookies (for the heads) and marshmallows cut in half (for pillows).
Here are even more great sleepover party ideas for cakes, all with pictures and instructions, from our sister site:

www.easy-cake-ideas.com
(opens in a new browser window)
3.a very realistic pizza cake
4.a fabulous hamburger cake
5.the ultimate vegetarian hotdog & fries
entertain
teen birthday party ideas - sleepover party ideas
These fun sleepover party ideas for activities will keep your guests entertained. After all, you can't gossip all night.....can you?
1.When the guests arrive at the party, have them personalize a plain cotton pillow case with fabric paints or markers. No, no-one loses track of their pillow and they have a fun momento of the night.
2.If you sent out the 'half a pair of flip-flops' invitations, now's the time to hand out the matching flip-flop and have everyone decorate their pair. Fun additions would be silk flowers, beads, sequins and stick on jewels.
3.Candy treasure hunt...team the guests into pairs and give them an envelope with a clue, which will lead them to the first stop. At each stop the teams collect four candies, each of which is worth a number of points known only after the game has ended. When everyone has finished, the team with the highest number of points wins. Have a themed prize for the winning team e.g. a travel spa kit for each girl.
4.For a girls only sleepover party, have each girl bring a pair of jeans to decorate (get the ok with the parents!). Now it's time to drag out that 'bedazzler' you've been hiding in the back of the closet all these years...or you could just have glitter fabric paint pens, fabric glue and sequins, jewels and sparkles for the girls to decorate their jeans with. Super fun!
5.Put on a pajama fashion parade. Set up a runway with a carpet runner or plastic tablecloths laid on the floor, preferably starting from a doorway. Add a bead or streamer curtain to the doorway for the 'models' to make their entrance through. Scour your local thrift stores and dollar stores for fancy hats, feather boas, costume jewelry etc. to accessorize everyones pajamas. Play some favorite music while the models parade their pajama couture on the runway and have someone video the gala so the girls can watch it later and giggle into the night. Have each model stop at the end of the runway and pose for a photo, and use the photos for take-home thank you cards
6.Make sure you have a selection of movies available for anyone who can't sleep, or just wants a little quiet time. Some great choices are:
impress
teen birthday party ideas - sleepover party ideas
These favors and thank you ideas are the extra special sleepover party ideas that make your slumber party stand out from the crowd:
favors & thank-you gifts
teen birthday party ideas - sleepover party ideas
Favors allow your guests take a little piece of the party home with them.
By sending a personalized thank-you gift home with your guests, you don't have to remember to send out thank you cards after the party, and they'll be truly impressed with your thoughtfullness.
Try one of these great sleepover party ideas for favors - a unique way to thank your slumber party guests for sharing in the fun:
Print out the pictures you captured during the 'pajama fashion parade' and add them to a photo holder thank-you card for instant gratification.
Design and print your own customized 'thank you' tags for a take home spa treat, like lip gloss, nail polish and body spray in a cute, inexpensive make-up case.
Personalized sleepover party t-shirts to remember the fun night you all had - why not give a great gift that's actually useful as well!




share the love
If you like what you see, why not share this site with your friends? There's always a new party in the planning around here.