cocktail party food:
mojito shrimp appetizer
Add some zest to your Cocktail Party Food with this fabulous Mojito Shrimp appetizer.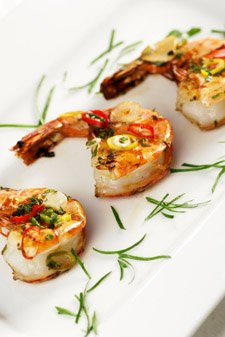 As fresh and fabulous as the classic Mojito cocktail they're named for, these shrimp are destined to be the hit of any party.
So simple and easy to prepare, just mix up the mint and lime marinade, toss the shrimp in and come back in 20 minutes to grill.
Oh, and if you don't have an outdoor grill, no problem, they're great indoors under the broiler too.
Don't save these just for parties. They make a great weeknight dinner too - mix up the marinade before you leave for work then when you get home, toss the shrimp in while you make a salad, grill for a few minutes and you're ready to eat.
Easy!
Ingredients:
cocktail party food - mojito shrimp appetizer
Makes: 30 - 45 shrimp
1 1/2 pounds shrimp (21-30 per pound), tails on
20 fresh mint leaves, finely shredded
1/3 cup demerara or dark brown sugar
1 thinly sliced shallot
1/3 cup light rum
3 tablespoons freshly squeezed lime juice
1 tablespoon olive oil
2 teaspoons of lime zest (about 2 limes)
1 teaspoon kosher salt - if substituting table salt, reduce to 1/2 teaspoon
here's how you do it:
1. In a bowl, combine mint leaves, sugar, and shallot. Mash the mint with a wooden spoon to release the oils in the mint.
2. Add rum, lime juice, oil, zest and salt. Whisk until the salt is dissolved.
3. put shrimp in a one gallon size Ziploc bag and pour in marinade. Seal and marinate at room temperature 15 to 20 minutes, no more.
4. Remove shrimp and set the marinade aside. Thread shrimp onto 6 or 7 (10" to 14") metal or bamboo skewers.
5. Grill shrimp 1-2 minutes per side, basting with marinade as they cook.
6. Arrange shrimp on a platter, drizzle with extra lime juice and garnish with mint sprigs.
share the love
If you like what you see, why not share this site with your friends? There's always a new party in the planning around here.