luau recipes:
hawaiian bbq chicken
A list of luau recipes should always include a fabulous barbecue chicken offering....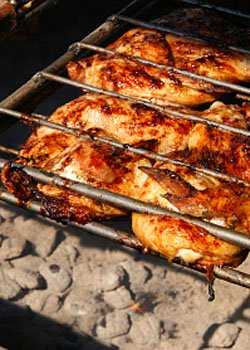 No matter how many pounds of this 'Huli Huli' or Hawaiian BBQ Chicken you make, it will be devoured before you can blink.
This quintessential Hawaiian classic has been around since 1955. Huli is Hawaiian for 'turn' and traditionally, the chicken is cooked sandwiched between two large grills over hot coals. It's cooked on one side then the grill master calls 'huli' and turns the chicken, hence the name 'Huli Huli' chicken.
Your outdoor grill is the perfect tool for this job. No grill? No problem - you can also use a broiler.
This works equally well as skewers of boneless, skinless thighs or a platter of your favorite cut up pieces. If you're not watching your calories, go for the pieces (with skin please) - they're heavenly.
Don't save this one just for parties. Marinate boneless, skinless breasts overnight and throw in a 350 degree oven for 35 minutes and you've got a fabulous week-night dinner.
what you'll need:
luau recipes - hawaiian bbq chicken
5 lbs of your favorite chicken pieces
1/3 cup ketchup
1/3 cup shoyu (Japanese soy sauce)
1/2 cup dark brown sugar
3 tablespoons sherry
1 piece ginger root, crushed
1 clove garlic, crushed
here's how you do it:
luau recipes - hawaiian bbq chicken
1. Combine ketchup, shoyu, brown sugar, sherry, ginger and garlic. Mix well.
2. Place the chicken and marinade in large ziploc bags and remove as much air as possible before sealing. Squish the bag around until all the chicken is coated with the marinade. Refrigerate for at least an hour, preferably overnight.
3. Place chicken, skin side up, on the rack of your outdoor grill.
4. Grill for about 10 minutes on each side or until chicken appears done.Baste a few times with the marinade while the chicken is cooking.
5. Serve hot off the grill.
share the love
If you like what you see, why not share this site with your friends? There's always a new party in the planning around here.