great cocktail party ideas
to 'get your glam on'.

use these great cocktail party ideas to glam up your next birthday party.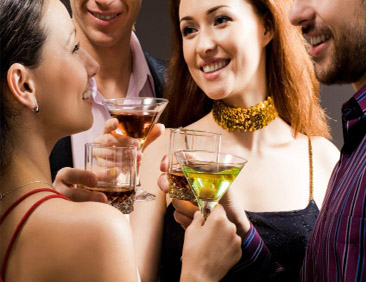 One of my favorite ways to celbrate a birthday is to host cocktail party.
It's a chance to get glammed up for a night, have a few laughs and escape the everyday world.
Incorporating a theme makes your planning easier and it doesn't have to be elaborate. Try these theme cocktail party ideas:
old Hollywood - a cocktail party conjures visions of elegance anyway, so run with it!
feature one or two colors throughout your decor, drinks and food for a subtle, classy theme
a Martini party
'Casino Night'
Murder mystery party
a Black Tie affair
feauture a signature alchohol, e.g. Champagne, Vodka or Rum
feature a theme ingredient, like chocolate (my personal favorite), lemon, apple or....you get the idea.
cocktail party tips for success:
adult birthday party ideas - cocktail party ideas
1. Rather than a full bar, which can be complicated and expensive, serve one or two signature theme cocktails for the evening, all vodka based for example.
2. Make all your food bite-sized and serve in courses; appetizer bites early on, entree bites in the middle and sweet, dessert bites at the end of the party.
3. Don't forget the designated drivers - serve up one or two fabulous mocktails for them to enjoy.
4. Make up pitchers of cocktail 'mixers' and set over large bowls of ice to keep chilled. All your guests have to do is top with the finishing touches, like champagne and raspberries. This leaves you with time to actually enjoy your own party!
To host the perfect birthday cocktail party you'll need:
invite
adult birthday party ideas - cocktail party ideas
Make sure to ask your guests to dress to fit your theme, if you have one.
These cocktail party ideas for invitations will set the mood for your swank affair:
1. You can't go wrong with classic black and white. Cut a 6.25" square from heavy black cardstock and a 4" square from heavy, white linen-textured paper. Using classic fonts like Angelina and Copperplate Gothic Light and black ink, print the party details on the white paper and secure to the center black cardstock, making sure you have even borders all around.
2. Use a clip-art search to find a picture of a martini glass, margarita glass or champagne glass (whichever suits the style of party you're having). Print it out to about 6.5" high, so that you have enough room to write in the party details. Add the date, time etc. on the back of the invitation. Wind a personalized wine charm around the base of the cocktail glass for each guest to bring along and use at the party.
3. Print or draw the black outline of a cocktail shaker on metallic silver cardstock. Print the party details in black, on a piece of transparency film and cut to fit the shaker outline. Attach the two pieces together.
4. For a Black Tie party, cut the silhouette of a strapless cocktail dress from heavy black cardstock. Use a metallic silver marker to write the party details on the front. Elegant and simple.
5. Here's a great Tuxedo invitation idea, perfect for a Black Tie party. Cut a 4" x 9" piece of heavy, linen textured white cardstock. Lay the card so that it's tall, rather than wide. Print the party details on the front of the card, using a combination of script fonts, like Angelina, and classic fonts, like Copperplate Gothic Light. Make sure to leave about 3" blank at the top of the card. Now, make a 1" long cut from the center top, down and fold each side of the cut down at 45 degrees to form the two sides of a shirt collar. Add a cutout bow-tie from either black cardstock or fabric remnants and you're done!
6. Go green and send your invitations electronically. Since most homes now have computer access, using a free service like socializr.com saves you time, money and a few headaches. Just create a free account, choose your invite design, add the e-mail addresses and you're all set. The hardest part is choosing from all the great designs available.
No matter what type of invitation you decide on, make sure to include the follwing details: date, start time, telephone number and address, RSVP date and contact details, style of dress - ask the guests to dress to suit the theme or style of the party you've decided upon.
decorate
adult birthday party ideas - cocktail party ideas
Don't forget to check your local dollar store. There's always tons of great stuff for party favors and decorations available.
these cocktail party ideas for decorating will add an elegant touch to your night:
1. Turn off overhead lights and replace any lamp bulbs with amber colored bulbs to give your room an instant candlelight glow.
2. If you have grandma's silver candlesticks, now's the time to polish 'em up and put 'em to work adding a sophisticated detail to your cocktail party decor.
3. Here's an easy, beautiful way to incorporate an accent color in to your decor. Take inexpensive tea light candles and plain drinking glasses (the short kind you use for alchohol on the rocks). Use double sided tape to wrap the glasses in lengths of wide shimmer organza ribbon in your chosen color. Tie with a length of narrow metallic silver ribbon and add a tea light to finish. These great decorator votive lights cast a gorgeous soft, colored glow and they're practically free to make.
4. Get the designer look of fabulous flower arrangements for a fraction of the cost. You'll need low, wide glass containers and glass pebbles in clear or your signature party color. If you don't already have these, shop your local dollar store, thrift store or discount stores like Ikea for great finds. Also, several bunches of flowers or greenery to fill the containers with. Look around your back yard and neighborhood for intersting greenery to use - you'll be amazed what you can find. For inexpensive flowers, check your local supermarket or farmer's market - whatever you like the look of, that's a good deal. Fill the bottom of the containers with the glass pebbles, then add water to about 2/3 full. Cut the stems of the flowers or greenery to fit the height of your container (about 4"), and place them very close together, pushing the stems into the pebbles to hold them in place. Don't be skimpy - put enough flowers or greenery in there so that there are no spaces when the arrangement is seen from the top. Make several of these arrangements to place around your home for the party.
5. Create conversation areas with a few tall tables for resting drinks on. Have two or three of the tea lights (from tip #3) on each table. Make sure you don't place all of these arrangements around the perimter of the room - don't want it to look like a high school dance in the gym!
6. Have several areas where food is available, since people inevitably congregate around the food, this will spread the guests around.
7. Dark colors add instant sophistication to a color scheme. Stock up on black or charcoal gray napkins, serving dishes and tablecloths. These are often available at your local dollar store.
cocktail party food
adult birthday party ideas - cocktail party ideas
Don't put all the food out at once. Think in courses - appetizer bites early on, main course bites mid-party and dessert bites to signal the end of the affair.
Try these great ideas to get you started:
appetizer bites
Bite sized food is so much fun to serve. Get experimental in the kitchen and serve up some bold flavors:
1. An antipasto platter - arrange marinated artichoke hearts, a variety of olives, roasted peppers, paper thin slices of salami and mortadella on a large platter.
2. A selection of cheeses and fruits - a good selection includes a blue cheese, a sharp cheddar, a mild gouda and a creamy brie. Serve with grapes, strawberries, dried apricots, sliced pears and whole, raw almonds. Don't forget an accompanying selection of crackers.
3. A trio of vegetarian dips and crudites for your non-carnivorous friends. Something like Hummus, Guacamole and Tzatziki with crisp vegetables works well.
Main Course Bites
adult birthday party ideas - cocktail party ideas
Something a little more substantial to help soak up all those great cocktails you're serving:
1. Malaysian style Satay Beef skewers - perfect appetizer bites.
2. Spicy Spanish Albondigas - mini, twice cooked meatballs bursting with flavor.
3. Stuffed mushrooms please a party crowd every time they're served.
4. Spicy Asian style vegetarian spring rolls with a sweet chili dipping sauce to round out the vegetarian-friendly offerings.
5. Mojito Shrimp - marinited in mint and lime, with a kick of Rum, perfect for summer.
sweet bites
adult birthday party ideas - cocktail party ideas
To end the party on a high note, serve any of these great bite sized desserts:
1. Cocktail S'Mores - you'll need lots of these!
2. Chocolate dipped cheesecake pops - make or buy your favorite baked cheesecake, scoop out balls with a small cookie scoop, insert lollipop sticks and freeze for 30 minutes, dip in melted chocolate and let set.
3. Silver dollar pancakes with berries and sweet cream - make mini pancakes (1 1/2" round), mix sour cream with brown sugar and dollop on top then add a fresh blueberry, a raspberry and a couple of slices of strawberry.
4. Tart, mini lemon squares.
5. Rainbow fruit skewers with agave ginger syrup.
6. Set up a chocolate fondue area with strawberries, kiwi fruit cubes, banana slices and small shortbread cookies to dip. Make sure you have lots of cocktail napkins, skewers and a bowl or other container to collect discarded skewers etc.
easy cocktail recipes
adult birthday party ideas - cocktail party ideas

cake at a cocktail party?....of course
adult birthday party ideas - cocktail party ideas
Who says you can't have cake at a cocktail party? Just think outside the box for unique ideas that say 'Happy Birthday' in sophisticated style.
Use any one of these great cocktail party ideas for cakes to make your party truly memorable:
1. Try this fabulous twist on the traditional champagne tower. Bake or buy mini cupcakes, remove them from the paper liner, frost with a simple, elegant swirl of pastel frosting, a few edible silver pearls and place in a martini glass. stack the martini glasses in a tower formation. This beautiful centerpiece and
2. These Coconut Mojito Cupcakes are the perfect choice for a cocktail birthday party.
Here are even more great cocktail party ideas for cakes, all with pictures and instructions, from our sister site:

www.easy-cake-ideas.com
(opens in a new browser window)
3.for a fun take on dessert, try a platter of Ice Cream Cone Cupcakes
4.or how about these fabulous chai spice cupcakes
entertain
adult birthday party ideas - cocktail party ideas
Cocktail parties are really all about the sparkling conversation, but it doesn't hurt to plan a few ice-breaker activities. Try these:
1. Celebrity Quest - as each guest enters, pin a postcard, bearing the name of a celebrity who matches your party theme (e.g. Gene Kelly for a Hollywood party), on their back. Make sure they don't see the name! Now it's time to mingle and ask questions, to find out who "Who Am I?".
2. DVD based games like "Scene It" - a movie trivia game.
3. Trivial Pursuit is always fun - just play without the board. The questions will keep everyone guessing.
4. Host a Murder Mystery at your party and tie it in with the theme of the night.
5. Of course, there's always karaoke....isn't everyone the next 'American Idol' after a cocktail or two!
impress
adult birthday party ideas - cocktail party ideas
These cocktail party ideas for favors and thank you gifts are the extra special touches that make your party stand out from the crowd:
Favors allow your guests take a little piece of the party home with them.
By sending a personalized thank-you gift home with your guests, you don't have to remember to send out thank you cards after the party, and they'll be truly impressed with your thoughtfulness.
Try one of these great cocktail party ideas for favors - a unique way to thank your cocktail party guests for sharing in the fun:
If you have scrapbooking skills, put them to good use and design a personalized tag for each guest, that can be attached to a small take-home gift.
Send each guest home with a mini cocktail shaker and the recipe for one of the signature cocktails served at the party.
Attach one of your hand-made thank you tags to each of the floral centerpieces you made for the party and send them home with the guests.
Make or buy chocolate truffles flavored with the signature alochohol of the party (e.g. Champagne or Rum) and package them in gorgeous little color co-ordinated boxes tied with silver ribbon.
Make of buy some bueatiful wine charms and add a name using glass beads and glass-paint markers.




share the love
If you like what you see, why not share this site with your friends? There's always a new party in the planning around here.