classic champagne cocktail recipe
Crank up the style quotient with this timeless classic...champagne cocktail recipe.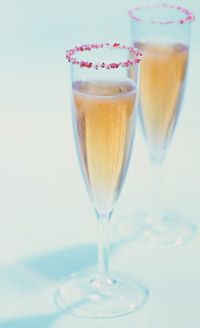 Like some of the best discoveries in life, Champagne's signature bubbles were an accident!

Back in the 1700s when the monk, Dom Pérignon, made an error while fermenting some wine, bubbles were the result. Thankfully for us, the French Aristocracy got wind of the new drink and it soon became a sought after beverage.

The Champagne Cocktail, as we know it, became 'all the rage' in the 1800's and still retains it's popularity today. From hip urban bars to fine dining restaurants, variations of the Champagne Cocktail are served up across the country.

Try the variations listed after the classic recipe to find your perfect match.

Enjoy!



for a classic Champagne Cocktail, you'll need:
4 ounces chilled Champagne (buy the best you can afford)
2 dashes Angostura Bitters
1 Sugar Cube
here's how you do it:
cocktail drink recipes - champagne cocktail recipe

Serves 1.

1. Drop sugar cube into chilled champagne glass and sprinkle with 2 dashes of bitters.

2. After 2-3 minutes, top with Champagne.

3. Garnish.
garnish
Add the perfect finishing touch with any of these great ideas:
a lemon twist
maraschino cherry
a fresh raspberry
orange twist
pink sugar rim on the glass
a sprig of mint
variations on a theme...
cocktail drink recipes - champagne cocktail recipe

Now that you've discovered this fabulous cocktail, try these great variations to add lots of variety to your repertoire:
Bellini
Although made with Peach Schnapps, rather than the original fresh peach, this modern version is just as fabulous.
6 ounces Champagne
1 ounce peach schnapps
1. Combine the ingredients in a champagne flute.

2. Garnish with any of the suggestions above

3. Enjoy!
Champagne Cooler
This is an easy to mix cocktail, that you may already have the ingredients for, right in your bar.
1 1/2 ounces Brandy
1 ounce Cointreau
Champagne
1. Combine the the liquors in a large wine glass.

2. Top with Champagne.

3. Garnish with a sprig of mint, or any of the other suggested garnishes, above.
Kir Royale
Often served as a pre-dinner drink in France, the Kir Royale is very simple to make.
3/4 ounce Creme de Cassis (Black Currant Liqueur)
Champagne
1. Add the Creme de Cassis to a champagne flute.

2. Top with champagne, to taste.

3. Traditionally, there is no garnish used with this cocktail.
Monte Carlo
Citrus and mint are a fabulous flavor combination. Try one at your next cocktail party
3/4 ounce white Creme de Menthe
3/4 ounce freshly squeezed lemon juice
1 ounce Gin
Chapmagne
1. Shake the Creme de Menthe, lemon juice and Gin in a cocktail shaker with ice.





2. Strain into a champagne flute.

3. Top with Champagne.

4. Garnish with a sprig of Mint.
share the love
If you like what you see, why not share this site with your friends? There's always a new party in the planning around here.