cocktail party recipes:
mojito cocktail recipe
Make the cocktail party recipes 'A-list' with this fabulous Mojito Cocktail Recipe.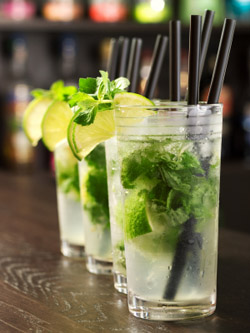 Aah...the Mojito. Invented in Cuba and adopted by everyone from Ernest Hemingway to the girls from "Sex and the City", this refreshing, minty cocktail is perfect for sipping on hot summer nights.

Easy to make and very easy to drink (a little too easy, maybe), this classic cocktail will add some tropical punch to your next fabulous soiree.

Make sure to try the great variation listed after the recipe for a little twist on the original.

Enjoy!



for a perfect Mojito cocktail, you'll need:
2 ounces White or Gold Rum
one lime, cut into four wedges
2 teaspoons sugar
ice
club soda (soda water)
4 or 5 sprigs fresh mint
here's how you do it:
cocktail party recipes - mojito cocktail recipe

1. In a collins glass, place the leaves from three or four sprigs of mint (depending on how minty you like things), the lime wedges and the sugar.

2. Gently mash the ingredients together in the bottom of the glass with a muddler or the back of a spoon.

3. Fill the glass 3/4 full with ice.

4. Top with soda water and garnish with the remaining sprig of mint.

4. Start making the next one, because these won't last long!




Party tip
For a party, do it Miami style and make a pitcher of Mojito 'mixer'. In a blender, put the leaves from about eight sprigs of fresh mint, 1/2 cup of sugar, 1/4 cup feshly squeezed lime juice and the zest of one lime. Top with 2 cups of ice and pulse until mint is finely chopped.

Transfer the 'mixer' to a pitcher with about 2 cups of ice and top with 1 cup or so of White or Gold Rum.

All your guests have to do is fill a glass 3/4 full with the mixer and top with club soda and a mint sprig. Easy!

This will free you from mixing individual drinks and give you time to actually enjoy your own party.




see it for yourself
cocktail party recipes - mojito cocktail recipe

If you're anything like me, it's more fun to learn a new skill by seeing it rather than reading about it.

So sit back, relax and watch Tamara Knausz, from Howcast, show you how it's done...




variation on a theme...
Here's another great way to enjoy your Mojito:

champito Make the same as the original, but top with 2 ounces of Champagne for a little sparkle.
share the love
If you like what you see, why not share this site with your friends? There's always a new party in the planning around here.