cocktail party food:
Mediterranean stuffed mushrooms
Give your cocktail party food a little Mediterranean flair with this easy stuffed mushrooms recipe.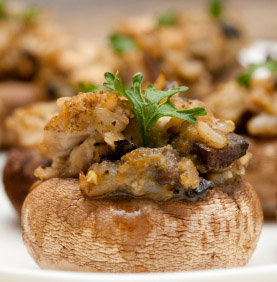 It's great to get creative with Cocktail Party Food, dishing up bold flavors and getting experimental in the kitchen.
But successful entertaining is about putting people at ease, so a well-known, classic appetizer like stuffed mushrooms is a great choice to compliment other dishes that people may be less familar with.
This vegetarian-friendly, Mediterranean inspired twist on a classic can be made a day in advance and heated just before serving, making it perfect hostess-friendly party food.
Ingredients:
cocktail party food - stuffed mushrooms recipe
Makes 28 mushroom appetizers
28 small white mushrooms (1 1/2-inch-diameter)
1/4 cup olive oil
2 garlic cloves, minced
1/2 cup fresh, multi-grain bread crumbs
1/2 cup crumbled Feta cheese
2 tablespoons finely chopped sun-dried tomatoes
2 tablespoons chopped fresh flat-leaf (Italian) parsley
1 tablespoon chopped fresh mint leaves
Salt and freshly ground black pepper
here's how you do it:
Preheat the oven to 400 degrees F.
1. Remove the mushroom stems and chop finely. Saute the stems and garlic in 1 tablespoon of the olive oil, over medium heat, until the mushrooms are coooked (about 5 minutes).
2. Combine the bread crumbs, Feta, sun-dried tomatoes, sauteed stems, parsley, mint, salt and pepper, to taste and olive oil in a medium bowl and stir until mixed well.
3. Spoon the filling into the mushroom cavities and arrange on a baking sheet sprayed with non-stick cooking srpay. Spray the tops of the mushrooms with olive oil spray.
4. Bake until the mushrooms are tender and the filling is heated through and golden on top, about 25 minutes.
5. Serve warm, garnished with extra flat-leaf parsley.
share the love
If you like what you see, why not share this site with your friends? There's always a new party in the planning around here.