great pirate birthday party ideas dead ahead!
stage the best Pirate Birthday Party on the seven seas with these great party ideas.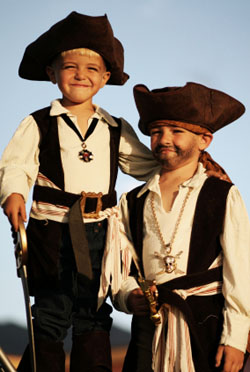 There's no denying that little boys (and some big boys) love a good pirate party.
With a Pirate Birthday Party, you can fulfill all their pint sized pirate whims at once...sword fighting, digging in the dirt for treasure and having great adventures. And all in one day....phew!
If you choose a color scheme, it ties everything together and makes your planning easier.
Perfect colors for a pirate theme would be black and gold, or black and red.
to host a Pirate Party they'd walk the plank for, you'll need:
You'll find all the pirate birthday party ideas you need right here.
invite
kids birthday party ideas - pirate birthday party
These great pirate birthday party invitations will set the mood for your high seas adventure:
1.Tear some 8" squares from brown paper shopping bags, burn the edges and use a charcoal pencil to draw a treasure map on the front. Spray the entire surface with hairspray to set the charcoal so it won't rub off or smudge. On the back, write out all the party details in black marker, using pirate language for fun. Put some sand and small shells in the bottom of a root beer bottle, roll up the invitation and place inside the bottle then deliver the invitations to your guests front doorstep.
2.Make a large treasure map and cut into puzzle pieces. Send one to each guest and tell them to bring it to the party to complete the treasure hunt. Make sure you keep a copy of each piece, just in case someone doesn't show up.
3.Soak a sheet of paper in cold tea or coffee and when dry, tear the edges. Print your party information on one side, crumple, then smooth the paper. Roll or fold it up, place in a small fabric pouch with some gold wrapped chocolate coins and deliver to to your friends.
decorate
kids birthday party ideas - pirate birthday party
Ok bargain shoppers, here's your chance to excel. Start scouring thrift stores, flea markets and garage sales well before the party for old chests, costume jewelry and wine goblets to set the perfect pirate scene.
these decorating ideas will add some swarthy charm to your pirate birthday party:
1.Think ahead and scour the after Halloween sales for discount skull decorating items like goblets, lanterns and skeletons.


2.Stay with basic black or red for your plates, bowls, cups and napkins. You can always find these colors in disposable party ware at your local dollar store, or you can use inexpensive, re-useable plastic items. Use gold or silver paint markers to decorate the cups etc. with a skull and crossbones decal.
3.Cover your tables with inexpensive burlap for some rugged character.
4.An old chest makes a fabulous 'treasure chest' centerpiece for your table. If you don't have a suitable chest to use, just make a cardboard box work for you. Add a half barrel shape to the top of the box for authenticity, then paint brown and decorate with gold braid and fake gems. Fill the chest with the loot bags the kids will take home with them at the end of the party.
5.If you like your food buffet style, add some pirate character by displaying it in old wooden crates and boxes. Cover the table with burlap, drape the boxes with some costume jewelry and scatter the table with gold wrapped chocolate coins.
6.Hang a large skull and crossbones flag in the main party area (inside or outside).
7.If you have a big cauldron from Halloween, now's the time to bring it out - to serve your drinks from.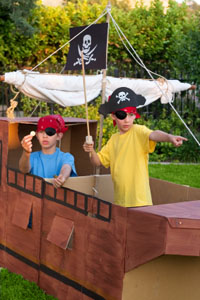 8.Make a pirate ship from appliance boxes and paint brown. Use black markers or paint to add wooden plank details. Cut out some portholes and add two masts made from old carpet rolls or PVC pipe from the plumbing section of your local hardware store. Drape the masts with old sheets for sails, hoist a jolly roger on the top of the highest mast and you're set to embark on a whirlwind adventure. Most appliance stores and carpet stores are happy to give away their old boxes and carpet rolls for free. You can't beat that!
9.If you have the space and the season's right, take your pirate adventure out to the back yard.
10.Set up a sandy beach area with a treasure chest to display the gifts. Then later, after the games and food, gather at 'treasure island' to see what loot the guest of honor plundered.
buccaneer's bounty menu
kids birthday party ideas - pirate birthday party
It's all feast or famine for pirates - but since this is a party, let's go with feast!
Serve your food in old wooden crates and boxes for a spectacular presentation.
For pirate birthday party food, think easy, fun and no eating utensils:
1.Chicken drumsticks or drummettes.
2.turn hotdogs into an octopus (snip one end into eight legs before cooking) or a sailing ship (poke a skewer through a paper sail and into the hotdog)
3.Fish & chips served in newspaper.
4.Sharkbait punch - 7 up and blue gatorade with gummy sharks swimming around the bowl .
5.cannon ball stew - mini meatballs in barbecue sauce.
6.Pizza squares - just because kids love 'em.
7.Fish crackers, gummy crocodiles and sharks, of course.
8.Fruit skewered on small plastic swords - serve with a simple dip of sour cream and brown sugar...yummy.
a grand cake for the captains table
kids birthday party ideas - pirate birthday party
Use any one of these great pirate birthday party ideas for cakes to make your party truly memorable:
1. A crew of scallywags can't survive on rations alone - so let them eat cake!
Watch Liv Hansen from Betty Crocker kitchens show you how to make a pirate cake that'll stop any mutiny dead in it's tracks.
kids birthday party ideas - pirate birthday party
2.Try this simple but spectacular idea for an edible party centerpiece. Bake four 9" x 13" cakes and stack two of them on top of each other to form a box shape, using frosting to fill between the layers. Stack the remaining two cakes and carve into a half barrel shape, for the lid. Frost both cakes in brown, then stack the half barrel shape on top of the box shape with lots of candy necklaces and gold wrapped chocolate coins in between, to look like treasures overflowing from the chest. Use fruit leather or fondant to make the chest strapping details and gold dragees for the stud details.
Here are even more great pirate birthday party ideas for cakes, all with pictures and instructions, from our sister site:

www.easy-cake-ideas.com
(opens in a new browser window)
3.a fabulous 3D pirate ship cake
4.an easy treasure map cake
5.a scary crocodile cake
entertain
kids birthday party ideas - pirate birthday party
These fun activities are both entertainment and party favor. You could complete each pirate's outfit by handing out a piece of the costume at the end of each game:
1.Prepare small treasure chests (available at good craft stores), by spraying black and glueing gold ribbon around both ends for detail. Have colorful gems, gold coins and decorative upholstery nail heads available for the kids to finish their chests. Write each child's name on the top of the box in gold metallic marker and finish the inside with a piece of felt on the bottom. The party guests can use their chests to collect loot from the games to take home with them.
2.Play sharkbait toss. Draw or paint a large sharks head with open jaws on some cardboard and cut out, making sure to cut out the open mouth. Buy or make some fish shaped bean bags for each participant to toss in to the sharks mouth. Don't forget to photgraph each child in the sharks mouth so you can use the pictures later for thank-you cards.
3.Every pirate birthday party needs a tresure hunt! Send your scurvy crew all around the house and yard with photo clues and a map to collect gold coins, bandanas, eye patches and more to complete their pirate costumes.
4.Make 'em walk the plank, and quick smart! Set up a large kiddie pool or blue tarp, scatter lots of gummy sharks and crocodiles around. Have two planks supported on milk crates and divide the kids into teams. It's a relay plank race to the finish.
5.Give the classic kiddy party game 'Pin the tail' on the donkey a themed twist by playing 'pin the X on the map'. Hang a large treasure map (use a picture you like or draw your own) and make a red X for each player to place on the map, as close as possible to the original.
6.Put a pirate spin on musical chairs by placing big red or black X's in a circle, instead of chairs.
7.Tie a water balloon to each players foot and let them loose in the back yard to pop each others 'cannon balls' before theirs is popped. A great game for a summer birthday party.
8.Instead of 'bobbing for apples' try 'trawling for treasure'. Each player gets 30 seconds to hook as many chocolate covered pretzels as they can using only a hook for a hand.
impress
kids birthday party ideas - pirate birthday party
These favors and thank you ideas are the extra special touches that make your tea party stand out from the crowd:
favors
kids birthday party ideas - pirate birthday party
Favors allow your guests take a little piece of the party home with them.
Make brown bag 'treasure chests' to send favors home in. Use black electrical tape, running vertically on the fron and back of each bag, to mimic the look of a treasure chest and add a hand-drawn or printed picture of a lock on the flap.
Alternatively, use drawstring satin pouches (available from any good party favor retailer) for favor bags. What pirate doesn't love a money pouch to stash their dubloons in?
As well as the costume peices collected in the games from the activities section, you could include:
chocolate coins wrapped in gold foil.
an inflatable sword.
pirate themed, temporary tattoos.
an inexpensive compass.
an eye patch.
gummy sharks
chocolate covered malt "cannon balls"
invitation wording
kids birthday party ideas - pirate birthday party
Here's some fun ideas for wording your pirate birthday party invitations to get you started:
1.Ahoy there lads and lasses.....Captain (name) is turning (age)....There be a swashbuckling adventure awaiting you, if ye dare....(date, time, address etc.).....So come be a part of our pirate crew, we'll sail the ocean blue or ye don't accept ye'll walk the plank arrrr....
2.Shiver me timbers, It's Captain (name) (age) birthday.....There's treasure to be dug but we needs your help!....So hoist yer sails and chart a course for fun...(address, time, date etc.)...It'll be Davey Jones' Locker for ya if ye don't join the crew me hearties....RSVP (details)
thank your guests
kids birthday party ideas - pirate birthday party
By sending a personalized thank-you gift home with your guests, you don't have to remember to send out thank you cards after the party, and they'll be truly impressed with your thoughtfullness.
Try one of these great ideas for a unique way to thank your party guests for sharing in the fun:
Fill in the details on some photo thank you cards, leaving out only the gift that was given. Then, at the party, print out a picture of each child in the sharks mouth (taken at the sharkbait toss game) and add it to the card, filling in the detail of the gift received. Send these home with each guest.
share the love
If you like what you see, why not share this site with your friends? There's always a new party in the planning around here.