luau recipes:
blue hawaii cocktail
A list of luau recipes isn't complete without a great cocktail...or two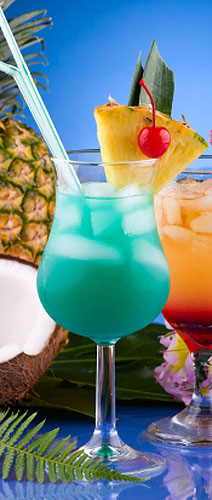 There are many recipe variantions for a Blue Hawaii Cocktail, with some that use Creme de Coconut, but this is the authentic version, created by Harry Yee at the Hilton Hawaiian Village Resort and Spa in 1957.
For a great party starter, serve this as a punch. Mix a bottle or two of plain or coconut-flavored light rum, a bottle of blue curacao, a can of pineapple juice, and a bag of ice together in a punchbowl.
for an authentic blue hawaii cocktail, you'll need:
3/4 ounce Light Rum
3/4 ounce Vodka
1/2 ounce Blue Caracao
3 ounces Pineapple Juice
1 ounce Sweet & Sour Mix
here's how you do it:
luau recipes - blue hawaii recipe
1. Combine all ingredients with ice.
2. Stir or shake, then pour into a glass (traditionally a hurrican glass) with the ice.
3. Garnish with a pineapple wedge, a cherry and some orange if you like.
share the love
If you like what you see, why not share this site with your friends? There's always a new party in the planning around here.