Need fabulous tea party ideas?
stage a birthday 'high tea' that's fit for royalty with these great tea party ideas.
It's a fact. Little girls just love a good tea party. There's nothing so enchanting as a pint sized hostess serving tea and tiny treats to a well dressed gathering of friends.
With a tea party birthday, you can indulge all your girlie whims at once...dressing up, playing hostess and being very 'grown up' to boot.
If you choose a color scheme, it ties everything together and makes your planning easier.
Perfect colors for a tea party would be pastel colors like baby pink, lilac or lemon yellow with white or cream.
to host a fabulous tea party you'll need:
You'll find all the tea party ideas you need right here.
invite
girl birthday party ideas - tea party ideas
These unique tea party ideas for invitations will set the mood for your tea party:
1.Cut a teapot and lid from silver card stock and attach the lid as a flap, so that it lifts to reveal the party details.
2.Use sheets of hand-made rice paper that co-ordinate with your color scheme and place a smaller, sheet of vellum with torn edges on top to show the party details. Hole punch the two sheets together and tie with dainty lace. Roll up and mail in a decorated cardboard tube.
3.Cut out a teacup shape from pink card stock. Use silver and pink markers to add some gorgeous detail copied from a doily. On the back of the teacup, add the party details.
4.Use a real tea bag and replace the tag with a larger, decorative invitation tag that includes the party details.
5.Use a pretty floral note card to announce the party details. Spray the cards with lavender or lilac scent before mailing, for a special touch.
decorate
girl birthday party ideas - tea party ideas
For those of us who love the thrill of finding a bargain when shopping, a tea party provides the perfect opportunity to excel. Start scouring thrift stores, flea markets, garage sales and on-line auctions and close-out stores for vintage table linens, china and silverware to set a beautiful tea table.
these tea party ideas add elegance and charm to your tea table to set the mood:
1.Scour local garage sales and thrift stores for dainty china teacups and saucers, creamers, sugar bowls and teapots to set your table in style.


2.Use beautiful linen napkins, if you have them. If not, buy the premium paper napkins that look and feel pretty close to linen. Roll the napkins and secure with a wired rose (fresh, dried or silk) and decorative name tag to add some beautiful detail to each place setting.
3.Lay the table with a vintage lace tablecloth. Use the one you've been saving for a special occasion or scour thrift stores, garage sales and flea markets for what you need.
4.Minitaure topiaries make a fabulous centerpiece for your table. Buy them ready-made or make some from small terracotta pots. Fill the pot with florist oasis, cover with moss, insert a twisted twig trunk, add a ball of florist oasis to the top of the twig and push in fresh, dried or silk flowers to cover the ball. Color co-ordinate your party colors with the flowers and a pretty ribbon trim around the pot.
5.If your table is big enough, lay out the food on tiered tea trays in the center of the table, otherwise, set up a table close by for the food and decorate with a pretty linen cloth and some fresh flowers or greenery.
6.If you have a rose garden (or any other classic style of flower), cut some fresh flowers from your garden and put them in a large glass vase that's filled about 2/3 with green apples or lemons. The mix of flowers and fruit makes a spectacular centerpiece.
7.This is the perfect time to bring out your 'special occasion' silverware.
8.Drape the chairs surrounding your tea table in inexpensive cotton poplin, co-ordinated with your party color scheme, and tie in back with a pretty tulle bow.
9.In nice weather, set up your tea party on a large covered deck or, even better, in the back yard if you have a nice garden to show off.
10.Bad weather? No backyard to use? No problem! Bring the outdoors in - hang a string of pretty paper lanterns over the table and bring your indoor plants in to surround the tea party area. Dress the larger plants in tiny fairy lights for a magical effect.
tea party menu
girl birthday party ideas - tea party ideas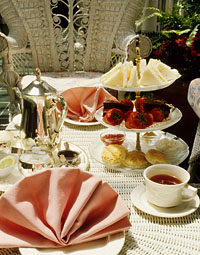 Tea party food is traditionally finger food so that no eating utensils are required, which is perfect for kids.
Serve your food on tiered tea trays for a spectacular presentation. If you don't already own some, these can be purchased at outlet and liquidation type stores for just a few dollars.
So, for tea party ideas for food, think small, cute and sweet :
1.Butter slices of your favorite bread, cover with multi colored sprinkles and cut into 1 1/2" squares to serve.
2.Chocolate dipped strawberries, apple slices or banana slices.
3.Triple decker finger sandwiches filled with thinly sliced turkey, cream cheese and cranberry relish.
4.Melon ball skewers - use different colors of melon like cantaloupe, honeydew and watermelon for a really pretty presentation.
5.Mini scones with jam and cream - a perfect 'Devonshire Tea' in miniature.
6.Mini lemon tarts.
7.Teeny, tiny pancakes topped with cream cheese and apricot preserves.
8.Finger sandwiches filled with cream cheese and raspberry preserve.
9.Mint or raspberry tea. Make a teapot with 3-4 tea bags and only about 1/3 full of boiling water. After steeping about 5 minutes, add milk to fill and sugar to taste. This is always a hit!
10.Refreshing fruit punch for the non tea drinkers. A simple and delicious one is made using pineapple juice and ginger ale in equal parts.
a tea party cake
girl birthday party ideas - tea party party ideas
Use any one of these great tea party ideas for cakes to make your party truly memorable:
1. Special occasion dressing is all about the accessories so why not accessorize your table with the utlimate edible accent - a beatiful handbag cake.
Watch Liv Hansen from Betty Crocker kitchens show you how to make a super cute and super easy version for your party table.
girl birthday party ideas - tea party ideas
2.For another really simple but spectacular idea frost some mini cupcakes in a pretty pink, or other co-ordinating pastel frosting, sprinkle with edible sparkle dust and display them on a tiered cake stand. If you don't have a decorative cake stand, you can make one easily by stacking an upturned teacup, then a dinner plate, then another upturned teacup and then a smaller side plate on top. Use denture glue to temporarily glue them together. Voila! Instant cake stand.
Here are even more great tea party ideas for cakes from our sister site:

www.easy-cake-ideas.com
(opens in a new browser window)
3.gorgeous white butterflies cake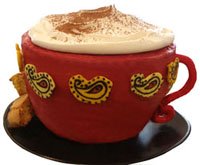 4.spectacular Sunflower cake
5.You could even show off something really unique, like this oversized tea cup cake, complete with giant biscotti.
entertain
girl birthday party ideas - tea party ideas
These fun activities are both entertainment and party favor. Use as many or as few of these tea party ideas as you like for your party:
1.Set up a craft area where each party guest can create her own lacy fan to use and take home from the party. Set out sheets of colored paper (co-ordinate with your party color scheme),paper doilies, beads, pearls, feathers and glitter pens. After the girls have created their decorated paper, help them to fold it, accordion style, in to a beautiful keepsake fan.
2.Since tea parties are all about refinement, play the 'book balance' relay game, which encourages good posture. Split the guests in to two teams and line half of each team up at opposite ends of the room. Players balance a book on their heads and walk to the other end of the room where the next 'relay racer' awaits. The fastest team to not drop a book wins!
3.Buy or bake some teapot shaped sugar cookies and frost with royal icing in colors that co-ordinate with the party color scheme then lay out some food color pens and have each guest decorate their own edible party favor to take home.
4.Have sugar cube races. Each racer must balance a sugar cube on their teaspoon and race from one end of the room to the other, where they deposit their sugar cube into a waiting teapot. Then they run back to the start, get another sugar cube and repeat. The winner is the first to three, five or whatever you decide (the younger the guests, the less the winning number should be).
5.Give the classic kiddy party game 'Pin the tail' on the donkey a themed twist by playing 'pin the handle on the teapot'. Hang a picture of a teapot (use a picture you like or draw your own) and make decorated handle shapes for each participant to place on the teapot.
6.set out some ladies hats (rescue them from a thrift store or the dollar store) with lots of feathers, glittery beads and ribbon and let the guests decorate their own tea party hat to wear and take home.
7.Lay out some sparkly beads, pearls and supplies for the girls to make bracelets or necklaces to wear and take home from the party.
impress
girl birthday party ideas - tea party ideas
These favors and thank you ideas are the extra special touches that make your tea party stand out from the crowd:
favors
girl birthday party ideas - tea party ideas
Favors allow your guests take a little piece of the party home with them.
Make 'tea bags' to send favors home in by folding the top corners of a paper bag in to the center, then making a fold along the top edge of the bag. Staple the bag closed with a name tag attached on a string, to resemble the tag on a tea bag.
Alternatively, use small satin handbags (available from any good party favor retailer) for favor bags. What little girl doesn't love hadbags?
As well as the crafts suggested in the activities section, you could include:
tea bags - fruit teas like raspberry are perfect for kids, since they don't contain any caffeine
a small teacup and saucer
costume jewelry - always available at the dollar store
mini chocolate dipped shortbread cookies - a perfect tea companion.
small pots of glittery lip gloss or nail polish
a pretty hair accessory
thank your guests
girl birthday party ideas - tea party ideas
By sending a personalized thank-you gift home with your guests, you don't have to remember to send out thank you cards after the party, and they'll be truly impressed with your thoughtfullness.
Try one of these great ideas for a unique way to thank your party guests for sharing in the fun:
Personalised tea bags, with a thank you note printed right on the tag. You can order these on-line. Just add a hand written name to the tag for each guest.
layer the dry ingredients for the mini scones you served at the party into a small mason jar. Tie the lid with tulle and ribbon and attach a decorative recipe/instruction tag so that each guest can re-create a little 'devonshire tea' at home any time they like. Also attach a hand written thank you tag with the guests name and a short message to each jar.
share the love
If you like what you see, why not share this site with your friends? There's always a new party in the planning around here.