cocktail party food:
rainbow fruit skewers with ginger agave syrup

Add a fresh flavor burst to your Cocktail Party Food with these easy rainbow fruit skewers.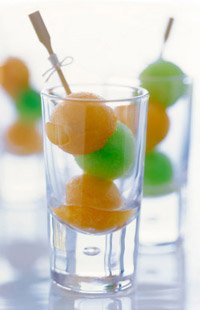 Fresh fruit is always a great idea for party food. It fits right in at any party from a backyard BBQ to a black tie ball.
When you want to glam it up a little for cocktail party food, you have to think outside the platter for serving ideas.
These rainbow fruit skewers served in individual shot glasses, drizzled with Agave Ginger syrup are a perfect choice. They're quick to make, easy to serve and yummy to boot.
For perfect Rainbow Fruit Skewers you'll need:
cocktail party food - fruit skewers
Makes about 25 skewers
1 cantaloupe, halved seeds removed
1 honeydew melon, halved seeds removed
half a small seedless watermelon
2/3 cup Agave nectar
2 tablespoons finely grated fresh ginger
2 tablespoons Cointreau - if you want to make these kid friendly you can use orange juice instead
NOTE:
All amounts are given in U.S. standard measures.
Click here
for international equivalents.
(page will open in a new browser window)
here's how you do it
cocktail party food - fruit skewers
1. Use a melon baller to scoop out the flesh of each melon and put the balls into a large bowl. Cover and refrigerate until well chilled.
2. Warm the Agave nectar in microwave for about 30 seconds, just until thinned a little.
3. Mix fresh ginger and Cointreau into the Agave and stir to combine. Pour over the melon balls and mix so all the melon is covered in syrup. Chill for at least an hour.
4. To serve, skewer one of each type of melon ball onto a cocktail skewer, place in a shot glass and drizzle with a little syrup. Garnish with a tiny sprig of mint.
party tip:
Make these the day before and store in an airtight container in the fridge.
For larger parties, make it easy on yourself and skip the shot glasses for serving. Just line the skewers up on a platter and drizzle with syrup.




Easy!
share the love
If you like what you see, why not share this site with your friends? There's always a new party in the planning around here.