cocktail party food:
lemon squares recipe
For a fabulous little 'sweet' cocktail party food bite, you can't go wrong with this lemon squares recipe.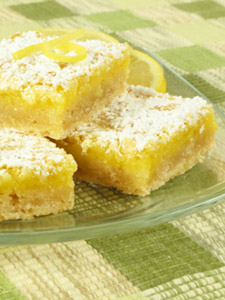 Lemon bars, lemon squares, call them what you will. But one thing we can all agree on is that you can't ever stop at just one!
They are the perfect balance of tangy, sweet topping and creamy, buttery crust... Bet you can't even read this without your mouth watering :-)
First popularized in the 1970's, these retro glam little citrus treats have made a huge comeback...and thank goodness for that!
Bake up a big batch for your next party and cut them into teeny, tiny sqares of pure heaven.
party tip
cocktail party food - lemon squares recipe
Triple the recipe and bake in a half sheet pan (13"x18"), then cut in 1 1/2" squares and you'll have 72 gorgeous little sweet cocktail party bites. Yum!
For perfect Lemon Squares you'll need:
cocktail party food - lemon squares recipe
Makes 16 lemon squares (2 1/4" square)
for the base:
1 cup unbleached, all purpose flour
1/8 cup cornstarch
1/3 cup sugar
1/2 teaspoon kosher salt
1 stick cold butter, cut into 1/2" pices
1 egg white, lightly beaten, for glazing
for the topping:
3/4 cup sugar
3 tablespoons all purpose flour
pinch kosher salt
1-2 tablespoons lemon zest, depending on how lemony you like things (about 2 large lemons)
1/2 cup freshly squeezed lemon juice (about 3-4 lemons)
3 large eggs
3 tablespoons heavy cream
NOTE:
All amounts are given in U.S. standard measures.
Click here
for international equivalents.
(page will open in a new browser window)
Preheat oven to 350° F and prepare a 13" x 18" (half sheet) pan by spraying with non-stick cooking spray and lining the pan with two criss-crossed ractangles of parchment paper, with 2" overhanging on all sides.
here's how you do it
cocktail party food - lemon squares recipe
to make the crust
1. In a food processor, pulse flour, cornstarch and sugar 2 or 3 times to combine.
2. Scatter the butter pieces around the bowl of the food processor and pulse until the mixture resembles coarse crumbs. The dough should stick together when pinched.
3. Dump into the pan and pat down evenly with your fingers. Refrigerate the dough for 15 minutes.
4. Bake the crust 20-25 minutes, until light, golden brown.
5. Reduce oven temperature to 325° F.
to make the topping
cocktail party food - lemon squares recipe
1. In a medium mixing bowl, whisk together the sugar, flour, salt and lemon zest.
2. Add the eggs, lemon juice and cream and whisk until just blended.
3. Pour the lemon mixture on to the crust and bake at 325° F for 20-25 minutes, until it feels firm to the touch.
4. Now for the hard part. Cool on a wire rack to room temperature, then chill for about 2 hours before cutting into 16 squares. Torture I know, but the wait will be worth it!




5. Dust with powdered sugar to serve.
share the love
If you like what you see, why not share this site with your friends? There's always a new party in the planning around here.