need unique luau party ideas?
say aloha to fun with these great luau party ideas.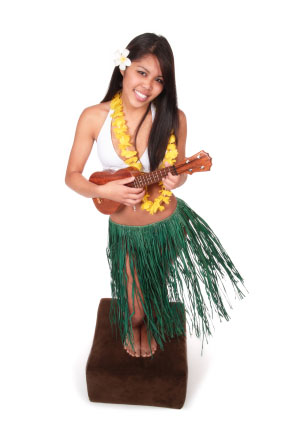 It's absolutely no wonder luau parties are so popular. Exotic cocktails, amazing BBQ feasts and fun, upbeat music...what's not to like?
If you can't fly out to Hawaii just now, and who can, then bring some Hawaiian spirit home with a fabulous luau bash.
If you choose a color scheme, it ties everything together and makes your planning easier.
Perfect colors for a luau theme would be bright tropical colors like orange, fuschia, yellow and red.
to re-create a tropical paradise, you'll need:
You'll find all the Luau party ideas you need right here.
invite
adult party ideas - luau party ideas
Make sure to ask your guests to dress 'Hawaiian style'.
These luau party ideas for invitations will set the mood for your tropical paradise adventure:
1. Use brightly colored flip-flops as invitations. Cut a piece of cardstock slightly smaller than the flip-flop and add all the party details to the paper. Glue it onto the flip-flop. Embellish each one with a gorgeous silk frangipani or hibiscus and hand deliver or mail.
2. Hand deliver small, brightly colored buckets filled with sand, sea shells and silk flowers. Attach a tag to the handle with your party details on it.
3. Use vintage Hawaiian postcards as invitations (always available on eBay). Start the invitation wording with "Wish you were here?".....join us for the next best thing! Then add all the party details.
4. Send out 'tickets to paradise'. Create plane tickets or boarding passes easily, by using an image of a plane ticket (scan an old ticket or use image search to find one) and changing the relevant info to reflect your guests name, date of the party, departure and arrival times etc. You can do this easily with any image editing software.
5. Cut a simple skirt shape from brightly colored cardstock, add some raffia strands, a band of ribbon at the top and a small silk flower to the band, and you've got yourself a super cute grass skirt invitation. Add your party details to the back side of the card and send out.
6. Make Hawaiian shirt invitations. Cut two identical shirt shapes from Hawaiian print scrapbook paper and snip one of them in half vertically. Cut another, slightly smaller shirt from plain cardstock, add your party details, and glue it to the uncut shirt. Glue the sideseam of each half shirt to the matching sideseam of the whole shirt and now your shirt opens to reveal the invitation!
decorate
adult party ideas - luau party ideas
Your local dollar store will become your best friend. There's always something perfect for a luau party lurking in the aisles.
these decorating ideas will add a true 'aloha' spirit to your luau party:
1.For a night-time luau, line your front walk/balcony/garden area with inexpensive tiki torches. These add an instant 'tropical nights' feel.
2.Stock up on plates, bowls, cups and napkins in solid colors to co-ordinate with your color scheme. You can nearly always find these at your local dollar store.
3.Cover your tables with either discount Hawaiian print fabric remnants or inexpensive split bamboo fencing. The fencing comes on a roll 3' x 15' or more so you can cover several long tables from one roll and it looks amazing.
4.Give your food table some extra presence by adding grass skirts around the perimeter and add some flower leis to the top of the grass skirts.
5.Use fresh whole pineapples, bananas, kiwis, star fruit, papaya and coconuts arranged as beautiful table centerpieces.
6.If your luau party is outdoors, hang beautiful colored paper lanterns in the trees surrounding the party area.
7.If you don't have any trees in your back yard, surround the party area with tiki torches and spread sand generously around them to create a beach feel.
8.Every luau needs a tiki bar to serve up fabulous fruity cocktails. If you don't have a bar area, set one up using a long table skirted with leis and grass skirts. Add a thatched style umbrella overhead. Lay out lots of coconut shell cocktail cups, umbrella straws and the fixings for a few classic Hawaiian cocktails and you're all set.
9.Dress your chairs in Hawaiian print shirts for a really fun accent - and send the shirts home as party favors!
10.String some beautiful flower lei lights all around your indoor or outdoor luau party for extra lighting and a magical ambience. If you can't find them at your local party supply store, look for them on-line.
11.Bring in some potted palms for lots of aloha charm. The more you use, the more lush the feel will be. No plants - no problem! You can find inflatable palm trees, 5 foot tall cut-outs of palm trees and great artificial palm trees on-line or at any good party supply store. You could also make your own from cardboard carpet rolls, green cardstock, brown paint and black markers.
12.Drape everything that doesn't move with vibrant flower leis
a luau feast
adult party ideas - luau party ideas
Hawaii is a melting pot of Chinese, Filipino, Hawaiian, Japanese, Korean, Portuguese, Puerto Rican, Samoan, Thai and Vietnamese. Let your food and drinks reflect this diversity.
Serve your feast on fresh or artificial banana leaves for a spectacular presentation.
For luau party food, think fresh tropical fruit, fabulous bbq and great cocktails:
1.Huli Huli chicken - a Hawaiian classic that's a real crowd pleaser.
2.Char Siu Pork - a sweet & spicy Asian take on bbq pork
3.Lots of fresh pineapple, watermelon, cantaloupe, honeydew and champagne melon and star fruit. Serve it either sliced and fanned out artfully on platters or cube the pineapple and use a melon baller to scoop out the different kinds of melons and present in hollowed out watermelon halves.
4.Your favorite fried rice.
5.Lomi salmon - a Hawaiian specialty mixing salmon, white onion, green onion and finely chopped tomato in a lightly spiced sauce.
6.Hawiian pizza squares for any kids attending the party.
7.Sweet potatoes Hawaiian style - boiled in their jackets, sliced thick and sauteed with brown sugar and butter. To serve, sprinkle with shredded coconut...yum!
8.Hot or mild portugeuse sausage seared on the bbq for a cruchy crust - this is an island favorite.
10.Your favorite macaroni salad
11.Hawaiian rice pilaf. Take your basic pilaf with red & green peppers and add macadamia nuts, raisins, pinapple, sage and parsley - d'lish!
12.Haupia, a traditional creamy coconut dessert.
14.Blue Hawaii cocktails or punch.
15.A virgin Hawaiian Rum Punch for all your designated drivers. Mix equal amounts of orange juice, guava juice, pineapple juice and ginger ale in a punch bowl or other large serving container. Add 1/8 that amount of grenadine (e.g. if using 4 cups of each other ingredient, add 1/4 cup grenadine). Just before serving, add lots of ice to the bowl.
a spectacular cake for luau celebration
adult party ideas - luau party ideas
Use any one of these great luau party ideas for cakes to make your party truly memorable:
1. If you really want a spectacular centerpiece for your luau, you can't beat an edible volcano!
Watch Chef Duff and his team from Food Network's "Ace of Cakes" and be inspired by their fabulous Hawaiian volcano cake.
adult party ideas - luau party ideas
2.Try this simple but spectacular idea for an edible party centerpiece. Bake some cupcakes and frost them in tropical shades that co-ordinate with your party color scheme. Stack them on a tiered cake stand, which you can make or buy very inexpensively, and top each one with a gorgeous, fresh or silk frangipani bloom.
Here are even more great luau party ideas for cakes, all with pictures and instructions, from our sister site:

www.easy-cake-ideas.com
(opens in a new browser window)
3.a fabulous beach cake
4.a tropical fish cake
5.a cute pair of flip-flop cakes
entertain
adult party ideas - luau party ideas
These fun luau party ideas for activities will keep your guests entertained. They might not always admit it, but even grown ups like party activities:
1.When the guests arrive at the party, have them personalise a coconut cocktail cup with paints or markers. Now no-one loses their drink and they have a fun momento to take home with them.
2.Bring back childhood memories with a hula hoop contest. Either time the participants or count spins of the hoop to determine the winner - or have no winner, just lots of laughs trying to spin the hula hoops even once around!
3.Have a 'hang ten' surfing contest. Photograph everyone in their best pose, on either a real surfboard or a decorative one cut from a large appliance box, and vote on the winner. Use the photos you took to make take home thank-you cards.
4.Every luau needs a limbo contest. Bring out your copy of Elvis' "Blue Hawaii" and a bamboo rod or heck, even a curtain rod, and you're all set for a fun time. You could wait until everyone's had a cocktail for this one, but don't wait too long!
5.Search out some life-size 'stand ups' of hula girls, surfer dudes or other Hawaiian props for fun photo opportunities at your luau party.
impress
adult party ideas - luau party ideas
These favors and thank you ideas are the extra special touches that make your luau party stand out from the crowd:
favors & thank-you gifts
adult party ideas - luau party ideas
Favors allow your guests take a little piece of the party home with them.
By sending a personalized thank-you gift home with your guests, you don't have to remember to send out thank you cards after the party, and they'll be truly impressed with your thoughtfullness.
Try one of these great luau party ideas for a unique way to thank your party guests for sharing in the fun:
Print out the pictures you captured during the 'Hang ten' contest or with the 'stand-ups' and add them to a photo thank-you card for instant gratification.
Design and print your own customized labels for a Hawaiian treat, like Macadamia nuts in a can.
Hawaiian themed beach towels - why not give a great gift that's actually useful as well!
Bake up lots of mini loaves of Hawaiian banana bread (use your favorite recipe and add macadamia nuts, coconut and pineapple) and wrap in clear cellophane, tie with natural raffia and finish with a real or silk hibiscus or frangipani bloom.
share the love
If you like what you see, why not share this site with your friends? There's always a new party in the planning around here.