cocktail party food:
smores recipe with a twist
Great Cocktail Party Food begins and ends with little gems like this mini smores recipe.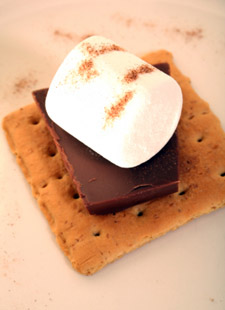 Having grown up in Australia, I was completely unaware of s'mores until my arrival in America, at age 32. It was yet another three years before I discovered what I'd been missing. Oh my!
S'mores are the ultimate campfire treat. There's magic that happens between the layers of crunchy cracker, rich melted chocolate and ooey gooey warm marshmallow.
This mini cocktail version delivers all the flavor without the need for a campfire. These are very fast and easy to make, which is a very good thing because they are soooo good, you'll be making lots of them!
Ingredients:
cocktail party food - smores recipe
Makes: about 48 mini s'mores treats
1 jar Nutella, or similar, choclate hazelnut spread
1 jar Marshmallow fluff or creme
1 box honey Graham crackers
2 gallon size Ziploc bags
cocoa powder, for dusting
here's how you do it:
1. Break each Graham cracker into quarters, then using a serrated knife, carefully cut each quarter in half again to form eight squares.
2. Fill one Ziploc bag with the Marshmallow creme and one with the Nutella spread. Cut a 1/4" hole in one corner of the bag with chocolate spread and a slightly smaller hole in the bag with the Marshmallow creme.
3. Pipe a flat swirl of Nutella on each cracker.
4. Top with a smaller, more upright swirl of Marshmallow creme.
5. Garnish with a dusting of cocoa powder.
share the love
If you like what you see, why not share this site with your friends? There's always a new party in the planning around here.