luau recipes:
haupia recipe
Any good list of Luau Recipes isn't complete without this creamy, sweet coconut dessert...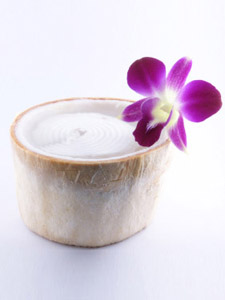 Appearing at almost every luau in Hawaii, is Haupia, a traditional coconut milk-based dessert that's a perfect end to a summer meal.
Haupia is often served in small squares and has the texture of jello, but this particular recipe will yield a more creamy, less firm pudding-type dessert.
For your vegan friends, just use all coconut milk in place of the whole milk. Yummy!
Serve in individual ramekins topped with a frangipani for a touch of the exotic.
Ingredients:
luau recipes - haupia recipe
2 cups coconut milk
1 cup whole milk
1/3 to 1/2 cup sugar, to taste
5 tablespoons cornstarch
1/2 tsp vanilla
here's how you do it:
1. Pour the coconut milk into a saucepan.
2. Combine cornstarch with the whole milk and sir to dissolve.
3. Add the cornstarch mixture to saucepan, stirring over low heat to combine. Add vanilla and stir constantly until thickened.
4. Let cool a few minutes then spoon into individual serving dishes (3/4 cup size). Refrigerate until set.




share the love
If you like what you see, why not share this site with your friends? There's always a new party in the planning around here.