authentic mai tai recipe
A luau just isn't a luau without an Mai Tai Recipe....or two!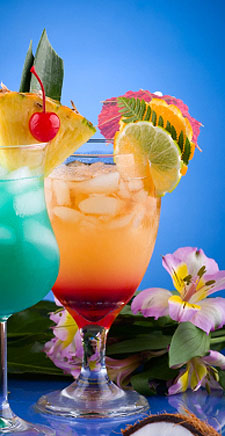 "Maita'i" is the Tahitian word for "good" and this classic cocktail definitely qualifies.

The original, authentic Mai Tai recipe started in 1944 at 'Trader Vics' Polynesian-style restaurant, in California.

But it truly became the Hawaiian classic it is today after debuting in 1953 at the legendary Royal Hawaiian, Moana and Surfrider Hotels (my personal favorite).

There's just something about orange, lime and rum that transports you to the tropics.

Enjoy!



for an authentic mai tai, you'll need:
1 ounce dark rum
1 ounce light rum
1 ounce Orange Curacao
1/2 ounce lime juice
dash of Orgeat Syrup
dash simple syrup - see recipe below
cocktail shaker
highball glass, to serve
here's how you do it:
1. Shake all ingredients except the dark rum together in a cocktail shaker with ice.

2. Strain into a highball glass and float the dark rum on the top.

3. Garnish with pineapple, lime slices, orange slices or even an edible flower and a cocktail umbrella if you're feeling fancy!

4. Start making the next one, because they won't last long!
share the love
If you like what you see, why not share this site with your friends? There's always a new party in the planning around here.